DataCamp Review 2023 From CodingCompiler Blog – DataCamp is the data science and analytic skills learning platform that offers an astonishing pace in the industry. The global market expects the immense growth of data scientists and analysts in the future that help efficiently analyze the data and its structure in the real world.
In today's digital world, there are numerous ways exist to learn data science but evaluating data science needs one specific online learning platform i.e. DataCamp. For those with no prior experience in data science has a superb learning option.
DataCamp is an online learning platform that is simple to learn and flexible to work with. The DataCamp training program helps the individual and company about the skill sets of programming language to work in the real data world.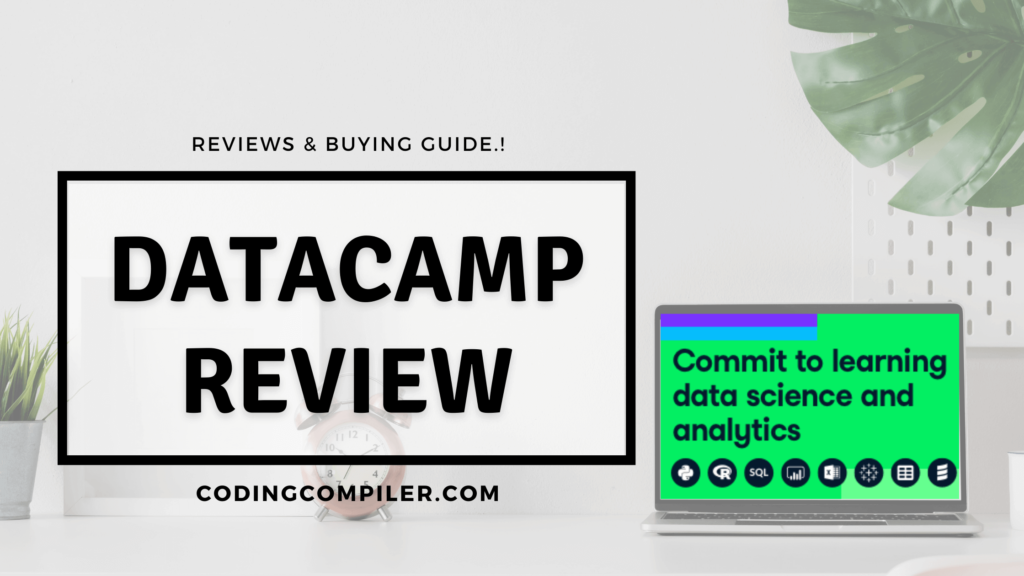 DataCamp Pros – What we like about DataCamp?
DataCamp is an excellent learning platform for studying data science and analytics. The person who learns data science becomes expert in the same field and feels unchallenging with the difficult tasks.
DataCamp is the best online learning platform for beginners, experienced, and businesses. It is an intuitive code editor that provides excellent data science knowledge to its learners. There are numerous reasons you may feel confident in choosing this training program.
DataCamp Cons – What we don't like about DataCamp
When there are many Pros of using DataCamp, the platform still has some cons that we don't like to accept easily.
Some of the pros & cons are mentioned here, have a look:
How Much Are DataCamp Courses?
The DataCamp offers two subscription plans for its users: A personal plan and a business plan.
Personal Plan:
The personal plans for individuals are further classified into:
Free account: 0$ ( It is a free account that is used for a try)
Standard account: 25$ per month ( Basic essential data skills are taught)
Premium account: 33.25$ per month ( For the learners who needs access to all projects)
To make a try, the individual user can sign-up with a free account whereas the standard subscriptions and premium accounts are billed annually. The data learning –standard account subscription billed annually is quite popular among users.
Business Plans:
This is the best suitable plan for a DataCamp for businesses, it is further classified into
Professional: $25 ( Simple platform that is specifically designed for a small team)
Enterprise: It depends on team size. (Advanced integration and reporting, it is specifically designed for large team size.)
To get access to the professional Business plan, the team must have a minimum of 5 users to get access to the subscription. If you are looking for a large team size plan then choose an enterprise business plan.
How to open a DataCamp Account?
The registration of the DataCamp is intuitive. It is easy to open a DataCamp account. Here is the step-by-step information about how to join.
First sign-up for the DataCamp account.
You can even sign-up with LinkedIn, Facebook, or Google.
Then choose your favorite programming language from my progress.
Start to take a skill assessment
Choose the DataCamp track
Start to learn from expert videos
Complete the track, projects, and get certified
Top 5 Best DataCamp Career Tracks for Data scientists
Learn Python With DataCamp Online Training Courses
Learn R With DataCamp Online Training Courses
Learn SQL With DataCamp Online Training Courses
Will DataCamp help me with my career?
DataCamp Instructors: DataCamp instructors are experts in the same field who work closely with the support throughout the online training and help the learners to understand the programming skills with clear and complete knowledge.
DataCamp Assessments: It offers DataCamp assessments to the learners. All the assessments are designed by well-experienced trainers.
DataCamp Certification: DataCamp is an excellent online certificate program that is worth paying it. DataCamp offers a good career option for learners who wish to start their careers in data science and analytics.
DataCamp Support: It offers a support chatbot that helps to get in touch with them and get clarified with the doubts instantly.
DataCamp Alternatives
DataCamp provides the best online interactive data science and analytic training. The best alternative for DataCamp is Udacity, edX, and Pluralsight. This alternative also offers excellent online training to beginners with greater discounts and promotions.
edX Review: edX is a popular online learning platform that offers more frequent courses, offers, and discounts than DataCamp. It has a higher user rating and review.
Udacity Review: DataCamp alternative Udacity offers an excellent online platform with the best quality course. The latest digital skill with the best online platform takes Udacity to the lead.
Pluralsight Review: When compared with the DataCamp, plural sight has plenty of features for its online learners. It offers fair pricing with excellent quality of course to the users.
DataCamp FAQ's