Is Blockchain Necessary For Business –  Future Of Blockchain Technology from Coding compiler. It is possible that most corporate systems are renovated to utilize blockchains or new business models based on blockchains are created. But don't expect this kind of thing to happen overnight. When bringing out the word blockchains in the conversation, there are people who have an empty face (as many as the ordinary people do), even those who dedicate themselves to devotion to hot feelings, and their reactions vary. 
However, those who have even little knowledge of blockchains are felt about the fady trends and are raising doubts about the possibility that this technology will play an important role as an element of digital change after the commotion has fallen.
The most famous example of blockchain technology is bitcoin which is a representative virtual currency. However, there are many other use cases. I want you to think that the blockchain is "OS". In that case, the bitcoin mentioned above is an application executed on it. Then, what is a blockchain?
What is Blockchain?
Blockchains are inherently special databases, linking "block" of sequential and unchangeable data about virtual assets and physical assets with a cryptographic hash, and connecting multiple "nodes" connected in peer-to-peer It is to distribute and manage it as a "chain" that continues to grow on. 
The addition of data to the blockchain is possible only when consensus (consensus formation) by the majority of nodes is established. Mechanisms such as proof of work (PoW) and proof of stake (PoS) are often used for such consensus. The new block is sent to all nodes after verification. Currently, PoW is the most common consensus mechanism, and the most famous case is bitcoin mining by decrypting cryptographic puzzles. However, PoS is more advantageous in terms of computing resources and power consumption, and throughput is also larger.
In short, block chains are cryptographically secure distribution ledgers, with each node retaining the latest history of all transactions previously exchanged among participants verified and unmodifiable ing. Participants do not even have to trust each other. In addition, since it is impossible to change or tamper with the verified transaction, the only cancellation by subsequent transactions becomes possible.
Types of Blockchain Networks
There are roughly two types of blockchain networks. One is a "permissionless type" that anyone can participate, and the other is "permission type" in which the administrator cannot participate without approving. The latter is further divided into a "private type" blockchain network and a "consortium type" blockchain network. 
Each of these can be compared to a single enterprise network and a corporate group network involved in a particular business process. In the block chains of permissionless type based on bitcoins and Ethernet, the centre of gravity is placed on the consensus mechanism for identity confirmation and transaction verification.
Blockchain Smart Contract
Business rules that govern what happens to assets during a transaction are known under the name Smart Contract. A Smart Contract creates a link between distributed applications (DApps) and the blockchain itself. It is a typical blockchain system based on Smart Contract. 
The link between the virtual assets and physical assets and the digital token is talk Nye internalization are called. On the other hand, a method of procuring funds by providing a new virtual currency or token instead of a traditional currency, or by providing an existing virtual currency such as a bitcoin is called ICO (Initial Coin Offering) ing.
Is blockchain necessary for business?
Blockchains can be recorded in any transaction as a distribution ledger and can be used to track any assets and related payments. Compared to traditional business processes, it is possible to reduce time and cost by using block chains, and in the case of permission type networks, security can be strengthened in particular. But before you step toward adoption, let's look at the general situation where blockchain technology is appropriate.
The main problem here is the number of participants in the business process and the level of mutual trust. This is summarized in the flowchart below by Mr. Tom Davies of Cisco Systems.
Tom Davies's flow chart of Cisco Systems
Keep in mind that in many cases traditional databases will be more appropriate solutions. The key question here is whether or not a reliable third party can be secured or required. If the answer is no, there is a way for potential use of blockchain (either public type, consortium type, private type).
Gartner summarizes the main features of various types of block chains as follows.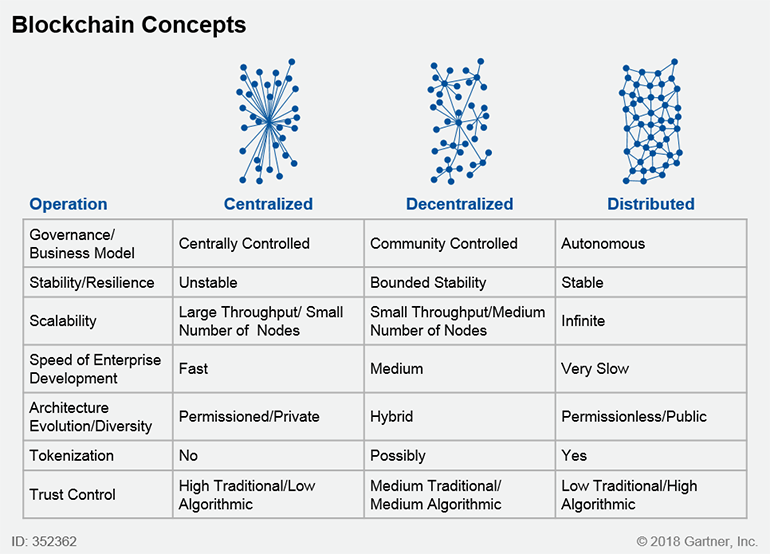 Provided by: Gartner
Analysts opinions on Blockchain
Gartner opinion on Blockchain –  Gartner's recently released " Blockchain-Based Transformation: A Gartner Trend Insight Report " (Block Chain -Based Transformation: Gartner's Trend Insight Report ) has briefly summarized the current situation, "Blockchains are long- It has the expectation to transform business and society, but it is reality that evidence is hardly seen in the short term. " 
The report states that most executives are interested in block chains for the purpose of improving current business processes and records management, but that they have tremendous potential for digital assets and decentralization I emphasize. Gartner specifically predicts the following three points.
Even if you look forward to 2022, only 10% of companies will achieve innovative change using blockchains.

By 2022, at least one innovative business with a $ 10 billion scales using blockchain technology is created.

By 2026, the increase in business value by blockchains will increase by more than $ 360 billion and will explode to more than 3.1 trillion dollars by 2030.
Gartner said that the period from 2018 to 2021 is "a lively and vibrant period", after which "a large-scale concentrated investment and many models that bring success stories" were created (2022 – 2026), " Increase in global and large-scale economic value "will continue (2027 – 2030).
Provided by: Gartner
To maximize the possibility of block chains, Gartner says, "It is necessary to adapt and change core models, processes, and systems." However, the company said, "These systems do not want companies to change until the end, because of the operational risks," he said. As a result, this kind of technology "may require ten years in order to establish an important position in business transactions".
IDC Opinion on Blockchain
In the latest version of the " Worldwide Semiannual Blockchain Spending Guide " published worldwide by IDC twice a year , Gartner 's "lonely vibrancy" period (until 2021) from 2016 We anticipate an 81.2% increase in the annual average growth rate (CAGR), and forecast that total expenditure in 2021 will reach $ 9.7 billion.
According to IDC, the largest investment in this period will be implemented by the United States (over 40% of the world), followed by Western Europe, China and the Asia Pacific region (excluding Japan and China) (IDC figures are bit Please note that expenditures on various virtual currencies utilizing block chains, such as coins, are not included).
Provided by: IDC
IDC believes that in 2018, the largest investment in block chains is in the financial sector ($ 754 million), followed by distribution and services ($ 510 million), manufacturing and resources (44800 Ten thousand dollars) are continuing.
In addition, the specific use cases that were high on the company's survey are payments and settlements across the country ($ 242 million as of 2018), tracking of lots and history management (as of 2028 $ 100,000), trade finance and settlement after trade and post-trade ($ 201 million in 2018).
The first of these use cases is a hot political topic in the UK in that it will consult with the European Union (EU) the tariff system after the brief. IDC predicts that these top three use cases will continue to be the largest spending field through 2021. In addition, the company cites law compliance, asset/product management, and identity management as other promising use cases.
Jessica Goepfert, Program Manager for Customer Insight and Analytics at IDC said in a statement: "Transactions and records are an integral part of every organization, so block chains are innovative potential from a variety of perspectives There is a use case, but the initial investment on the current blockchain is a very high proportion of manual work, such as payment across countries, history, post-trade settlement, innovating existing process inefficient "Because these are headaches painful for many companies, block chains are proposing attractive values."
Forrester Research Opinion on Blockchain
Forrester Research is a report titled " Predictions 2018: Be Ready To Face The Realities Behind The Blockchain Hype " (forecast for 2018: preparedness to face reality behind the buzzword as a blockchain " (CIO) and outlines the important trends in the blockchain on 2018.
At the beginning of it, "Blockchain technology is based on media articles, people involved in software articles or books, and people with other purposes With the warning that became familiar now and now that it has not the phenomenal ability as stated ", there is no doubt that possibility exists. When the blockchain technology is correctly implemented, a new It gives us the power to realize business and trust model. "
The main point of this report is that "This is an evolution and not a revolution" (ie "Continuous technological progress that reflects the requirements of the enterprise and provides a more mature approach to the project is expected "In other words," security is the main focus "(that is," further initiatives based on blockchains are created in fraud management and identity-related ", and" developers and security professionals interface with existing systems And that it will pay more attention to security risks such as serious defects in software and future risks brought about by quantum computing.
Like Gartner, Forrester says, "Many block chains and distributed ledger projects are just aiming to improve existing processes," he says, "People who aim for true innovation look ahead It is continuing.
CIO and others are also asked to set realistic expectations, to understand their own use cases and related interdependence relationships, and to build a blockchain ecosystem as soon as possible from where it can be handled Have been done. As far as security is concerned, there is advice that developers and security teams will increase expertise on block chains, focusing on integration options and regulatory compliance.
What is told in the survey on Blockchain?
Gartner Survey on Blockchain
According to Gartner's 2018 CIO Survey, only 1% of CIOs replied that they are promoting blockchain related projects and systems in-house, they said they are in the short-term planning and experimental stage on blockchains It was said that only 8% did. In addition, 77% of CIOs said that they are not completely interested in the technology as a company or that there is no plan for introduction or development.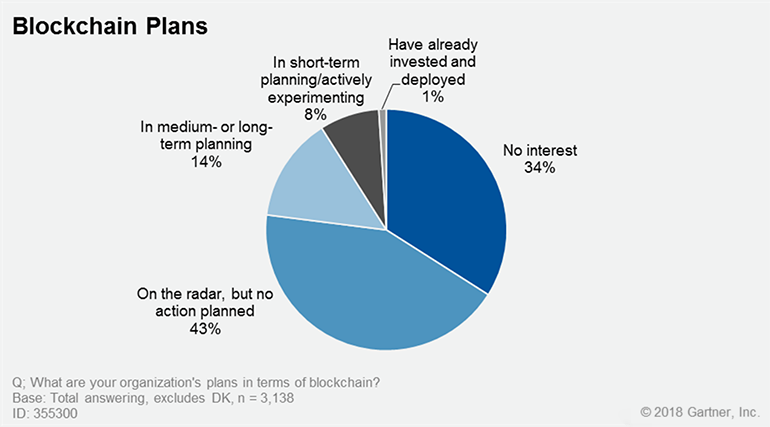 Provided by: Gartner
David Furlonger, vice president and a fellow of Gartner, said, "Our 2018 CIO Survey highlights the excessive publicity involved in the adoption and deployment of block chains". "It is essential to comprehend the true appearance of the blockchain, what it can do at the moment, and how to transform companies, industry, and society in the future" (Furlonger)
According to Mr Furlonger, having it worked on the blockchain technology quickly may lead to failure of innovation, wasteful investment, early decision, innovative technology dismissal.
Skill shortage and problems of IT culture and structure are likely to be a major obstacle to the introduction of block chains.
CIOs in the telecommunications business, insurance and financial services related industries show a stronger interest in the block chain's potential than CIOs in most other industries.
"While many industries show interest in blockchain initiatives, Furlonger says whether they will accept decentralized centralized, decentralized tokenized networks, or whether block chains are traditional I do not know yet whether it will go into a dead end for trying to introduce it into the value stream or system. "
IBM Survey on Blockchain
IBM 's " Forward Together " report based on a survey conducted on 2965 CxOs in the first quarter of 2017 showed that "Three ways blockchain Explorers chart a new direction" (three of the blockchain explorers Directionality) is attached to the subtitle.
Thirty per cent of the respondents already said they were in the experimental, trial and implementation stages of the blockchain and were named "explorers", while respondents who were not considering the technology (somewhat negative With nuances in it) are spoken under the name "bystanders".
Although they are not surprising given the name of the explorers, they expect block chains to be useful in some way to their corporate strategy, the most frequent opinion was to improve the transparency of the transaction.
Provided: IBM (graphing creation: ZDNet)
IBM mentioned healthcare as a pioneering field of block chains adoption and said it is suitable for storing patient lifetime data and secure access to it. The report says, "From the doctor's visit, or if all vital signs obtained from wearable medical devices and histories of past medication/ disease/surgery can be shared in a secure manner using block chains, patient care Quality and care collaboration will improve and the cost will be expected to decline. "
This survey also revealed that many respondents expect that organizations will be able to collaborate and compete in unprecedented ways because block chains eliminate reliable intermediaries It was.
IBM draws three lessons from the dialogue with the explorers of the early adapter blockchain. The first lesson is that organizations should identify new opportunities for revenue generation from data and alternative payment models ("Establishing economic benefits").
The second lesson is to praise the value of industry associations towards promoting business standards to realize collaboration of geographically distant organizations ("establishment of trust circle"). The third lesson is to ring a warning on the approach of watching the blockchain and that the early platform will shape the way of evolution in the coming decades ("Learn quickly, It is not caught ").
Underscore VC Survey on The blockchain
Venture capital company Underscore VC summarized " 2018 Future of Blockchain Survey " (2018 edition of the future of blockchain) with reference to the opinion of hundreds of thought leaders of the blockchain.
Among them, respondents cited more than 30 industries that are thought to be "meaningful destruction" aircraft over the next 5 years. The top 15 industries are financial transactions and micropayments, banks, supply chains, cloud funding, securities trading, voting, healthcare, cloud storage, virtual assets, real estate transactions, legal document signature processing, energy markets, small enterprises Lending to the government, the government.
The biggest factor in accelerating the adoption of block chains is seen as being a departure from centralized management. On the other hand, the biggest barriers are regarded as lack of scalability, and 78% think it will take 3-5 years to resolve it.
Provided by: Underscore VC
Respondents also remembered from a historical point of view the current state of the blockchain is the era of the dot-com bubble in June 1997, that is, three years before the collapse of the dot-com bubble in March 2000 It has said.
More than three quarters (78%) of respondents believe that the adoption of block chains will be accelerated overall through the use of private block chains in companies. However, 69% believe that companies currently do not have sufficient capabilities to implement blockchain technology.
Michael Skok, co-founder of Underscore VC, commented on this contradiction, "Based on deep understanding on investment experience over the past 16 years and surveys, open source and cloud computing, the movements of large companies.
We are predicting that it will be similar for blockchains as well. We will be a place where public blockchains will create innovation and new and upcoming technologies such as emerging companies and Ethiaryam will bring innovative DApps I am convinced that I will be led. "
Gowling WLG survey on Blockchain
Gowling WLG , a  Global 100 law firm and a founding member of the Blockchain Research Institute ( a division of the Tapscott Group ), has an online survey of FinTech related experts worldwide in the business field, as well as experts Through a deeper in-depth interview, the company compiled the 2018 report " The Ultimate Disruptor: How Blockchain Is Transforming Financial Services " (Ultimate Disruptor: Block Chain is Revolutionizing Financial Services).
The important point pointed out by experts involved in the report is the difference between the virtual currency and the block chain / distribution register technology (DLT) that is the foundation.
For example, as criticism against the blockchain, although the high computing cost and power cost generated at the time of mining the virtual currency are commonly mentioned, Umony's chief executive Dean Elwood criticized for such criticism On the other hand, "We are not using blockchains as currency, we use this technology as a different form, a DLT chain to write an audit trail, which is cryptographically secure Yes, you can prove that the elements of the audit have not been tampered with.
The software is becoming a commodity and the cost of management has been kept low. In the use case other than currency / mining, computing power It does not matter. "
These experts have identified various industries including banks and finance as a field that can benefit from blockchain and DLT.
Provided by: Gowling WLG and BizWord
Current status of blockchain market
As with other emerging technology markets, the blockchain market has also undergone a rapid evolution. IDC summarizes the current state of the blockchain market as of the end of 2017, cites the main companies, and outlines the current market structure.
The main listed companies using the blockchain
Accenture, Amazon, Aquilon Energy Services, BigchainDB, BitVault, Blockchain Global, Blockchain Health Co., BlockCypher, Blockstack, BlockStream, Bloq, Booz Allen Hamilton, Broadridge Software, BTL Group, Cambridge Blockchain, Capgemini, CGI Group, Chronicled, Cisco Systems, Civic Technologies, Cognizant Technology Solutions, Coinbase, Conduent, Cuscal, Deloitte, Digital Asset Holdings, DXC Technology, Earthport, Elliptic Technologies, Ernst & Young, Ethereum, Everledger, Evernym, Factom, GEC, Genpact , Google, GuardTime, Hashed Health, Hewlett Packard Enterprise (HPE), Hijro, Hitachi, Hyperledger, IBM, Infosys, Intel, JPMorgan Chase, MasterCard, Microsoft, Monax Industries, Netki, NTT, Oracle, PwC, Red Hat, Ripple Labs , Samsung, SAP, SAS Institute, SecureKey Technologies, ShoCard, Skuchain, Slock.it, Symbiont, Tata Group, The Boston Consulting Group, Thomson Reuters, Tradle, T runomi, Virtusa, Visa, Wipro. 
Provided by: IDC
A total of 72 companies are listed as the main companies and they have five technology layers (identity management, fabric and distribution register platform, security, settlement, smart contract) and four service categories (blockchain as service, Consulting and professional services, consortium/industry group, compliance), four industry applications (natural resources and financial transactions, government and health, supply chain and trade finance), regulatory agencies and authorities, data histories and notarization organizations It covers.
Most companies are involved in multiple market areas. I am not surprised that there is a big concentration in financial transactions.
Data provision: IDC
Concerns about blockchains
Everything related to the blockchain approaches "top of excess expectation" (see the figure below), and in the process of trying to reach it, the unavoidable shaking back of the disastrous period comes into view. For example, negative coverage has recently become noticeable for bitcoins. One of the reasons Gartner classifies the bitcoin as being in "disillusioned recess" only in the blockchain hype cycle is here.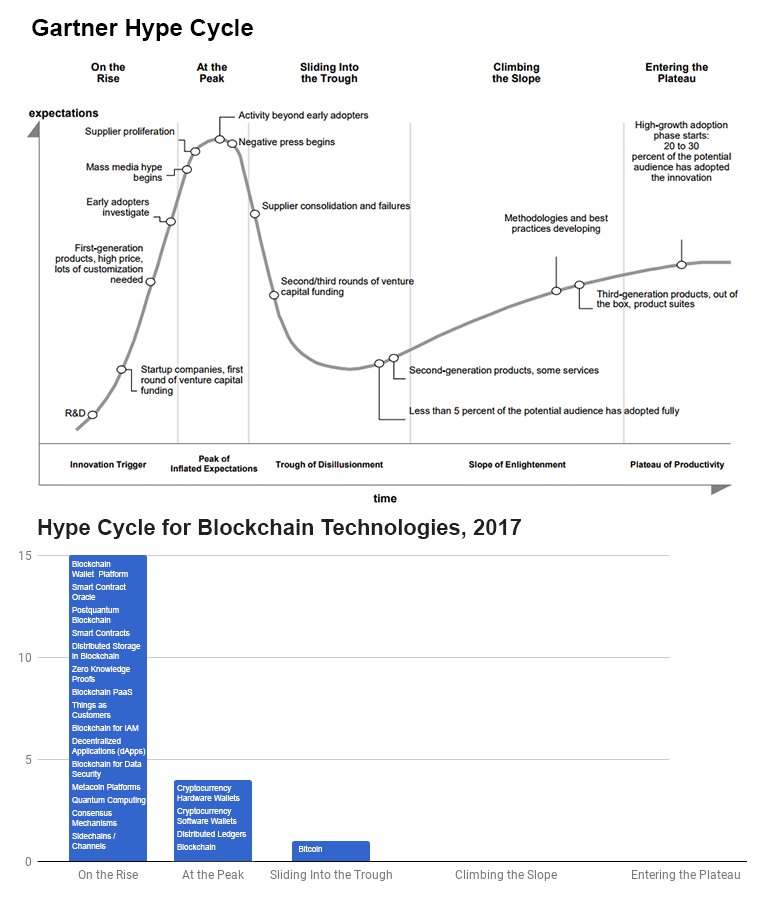 Provided by: Gartner and ZDNet
According to authors of a recently published report " A Survey on the Security of Blockchain Systems " (a study on the security of the blockchain system), although security is regarded as a major advantage of the blockchain, ) The technology still seems to have a big risk. The following table shows the nine risks and their causes, the scope of influence ("Block Chain 1.0" (virtual currency) and "Block Chain 2.0" (smart contract )) Which is the same.
Classification of risks related to block chains
risk
Cause
Impact range
51% vulnerability
Consensus mechanism
Blockchain 1.0, 2.0
Secret key security
Public key cryptography
Criminal act
Virtual currency application
Double payment
Transaction authentication mechanism
Privacy information leak within transaction
Defects in transaction design
Smart Contract About Crime
Smart Contract application
Blockchain 2.0
Smart contract vulnerability
Defects in program design
Smart contract with inadequate optimization
Defect on writing program
Unreasonably inexpensive operation
Defect in the design of the Ethernet virtual machine (EVM)
51% vulnerability : This is because one virtual currency miner gains 50% or more of the block chain's hash ability (in the case of PoW system) or takes ownership of the currency (in case of PoS system), The miner will be able to manipulate and change blockchain information in a variety of ways.
Secret key security: This is a concern that if the secret key (automatically generated/managed identity information and security authentication information) of the blockchain user is stolen, the user's blockchain account can be tampered with.
Criminal acts: Some commerce platforms allow for anonymous commodity trading using bitcoins, so there is the possibility of becoming a hotbed of crimes such as Ransomware, blackmail and money laundering.
Dual Payment: This is a concern that the same virtual currency is used in multiple payment transactions. According to Li et al., "In the case of PoW-based block chains, an attacker can implement it relatively easily since it can exploit a slight time lag between the start and confirmation of two transactions."
Privacy information leaks within transactions: Blockchain systems provide a means to protect the privacy of user transactions. However, Li said, "Unfortunately, protection measures for privacy in the blockchain is not that robust." And in the case of virtual currency Monero, we cite the findings that you can infer the actual transaction input with an accuracy of 80%.
Smart Contract on Crime: Mr Li said that Smart Contract "may encourage leakage of confidential information, theft of cryptographic keys, various crimes in the real world (homicide, arson, terrorism, etc.)", It explains an example relating to the theft of a password.
The vulnerability of Smart Contract: Also, Mr Li pointed out that there are possibilities that a vulnerability due to program flaws may enter into a Smart Contract, and categorized more than 12 categories. According to a survey cited in the report, 46% of the Smart Contracts using Ethernet (8833 out of 9366) had a vulnerability attributable to four types of security bugs.
Smart Contract with Inadequate Optimization: For user interaction in Smart Contract using Ethernet, "Gas" (fee) that can be exchanged for "Ether" (virtual currency of Ethernet) will be charged. "Unfortunately development and deployment of some smart contracts have not been fully optimized," Li said. Using a tool that automatically finds three kinds of the pattern of Gas's cost savings among the samples of Smart Contract by Eliariam, 80% said it was inadequate optimization.
Unduly inexpensive operation: The value of Gas in the operation of the Ethernet is proportional to the computing resource consumed. However, since the estimation is difficult, it is easy to make unreasonably inexpensive operation. "For example, if the value of Gas for some operations with a lot of I / O is set too low, the possibility arises that the operation can be executed in large quantities within one transaction, In this way, we can do a DoS attack on the Ethernet. "
Future prospects of the blockchains
Blockchains are getting closer to Gantner's hype cycle due to mass media attention and the sudden increase in suppliers, after which they are being disillusioned with recruitment by non-early adapters and negative reports There is no doubt that it will be on the road to "Uchi".
That said, this does not mean that the current clamor surrounding the block chain ends up in just a fuss. From now on, as a result of many pilot projects and early introductions, supplier integration, funding through venture capital (or ICO) progress, thin featuring use cases are sifted out and we are going to climb the long-lasting "Enlightenment Slope" It will be.
Many businesses will have new tools using more efficient and secure block chain technology and new business models using block chains will also be created. However, you should not think that such things will happen overnight.